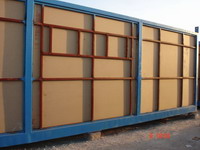 The benefits of a pre engineered steel building come from the construction material itself – steel – and how the structure is built. The combination of metal construction and pre engineered components provides three main advantages:
Cost

. Because the labor to put up your building is drastically reduced, you can save 30% or more over more traditional construction methods.

Speed. Pre engineered steel buildings can be operating in 60 to 90 days, instead of six months or more.

Durability. Without requiring repainting or other maintenance, steel buildings are guaranteed to last 20 to 30 years, depending on the manufacturer.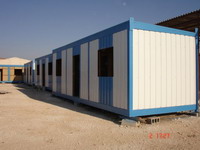 Here's how a typical pre engineered steel building project progresses:
Design. Before any work can proceed, you need to specify the size and shape of the building, the type of roof and interior walls you want, the number and placement of doors and windows, and any façade or other cosmetic enhancements.
Engineering. Once the basic design is complete and you've paid a deposit, an engineer needs to create the specifications and blueprints for the building. The blueprints will specify what materials should be used and what loads the building will need to be able to withstand to meet local building codes.
Fabrication and delivery. After the blueprints are signed off on, the real production begins. The beams, posts, girders, side and roof panels, and even the fasteners to hold the building together are all produced at a factory, then shipped to your construction site. The parts are pre-cut to the exact dimensions you need, pre-drilled, and ready to be bolted together. This step can take three to six weeks.
Sitework. While the components are being manufactured, the building site can be readied. Pre engineered steel buildings require foundations, which are usually poured concrete.
Construction. Once the components arrive and the foundation is ready, the actual construction can take place.


Finishing. Adding insulation, interior walls, exterior finishes, doors and windows, steps, plumbing, and all the pieces that turn a metal box into a building you can appreciate.
Walkthrough. Like any construction project, your pre engineered steel building needs to be approved by a building inspector once it is completed.
Pre-Fabricated Steel Buildings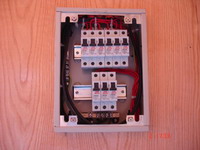 More and more construction is being done with steel in recent years, as more people learn about the many benefits of using steel vs. other construction materials. One of the many features offered when building with steel is the option to purchase a pre-fabricated steel building.
Pre-fabricated steel buildings can be anything from simple storage structures to complex steel framed office buildings. Pre-fabricated steel buildings cost less than most other types of buildings for a number of reasons. For example, pre-fabricated buildings are available along with all of their components, all ready to the assembled. Just about anyone can assemble and erect a pre-fabricated steel building, thus decreasing labor costs and saving time.
Use of computer-based technologies for precise designing, measuring and planning increases the accuracy of cost prediction. There are no surprises while assembling; the construction process is typically highly efficient and less subject to delays and setbacks.

Manufacturers of steel buildings take responsibility for all of the related activities, from design to construction. This makes coordination much easier, as there is no dependency on multiple suppliers for various components and services. Even the fees are comprehensive, with all the costs included and adjusted to suit the package. Having a single point of contact makes communication and coordination simpler.

Pre-fabricated steel buildings' panels can be insulated as per requirements. The paneling is also done in such a way that the panels overlap when fitted together,leaving no openings, thus keeping the building well insulated against the external weather conditions. This insulation helps to keep the buildings warm in winter and cool in summer, thus saving on energy costs. Pre-fabricated buildings can also be coated with aluminum or other similar compounds as dictated by the weather conditions and the requirements of the user.
Cost effective and sturdy, pre-fabricated steel buildings are an attractive option for many.
Pre-Engineered Steel buildings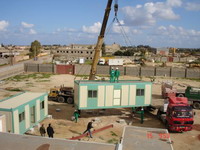 Steel is a remarkable material that has been steadily increasing in popularity for construction. It is 66% recyclable, which offers both environmental and financial benefits, and is especially strong and durable. There are a number of options available for building with steel, and one of the most innovative of those options is pre-engineered steel buildings.

They are planned, designed and almost pre-built at the factory itself. They just have to be assembled after they reach the building site. They are pre-drilled, pre-cut and pre-welded and just need to be bolted together. This can often be done quickly and with a minimum of professional assistance, and sometimes with none at all.
They are quicker, easier and almost 50% less expensive than conventional buildings. Besides, they can be designed as per exact specifications. Elements of the site, other buildings in the area, proposed purpose, and other elements can be taken into consideration. This is the reason for the increasing use of pre-engineered steel buildings for schools, offices, houses, stores, churches and recreational places.
Pre-engineered steel buildings, which have no support columns, are known as clear-span buildings. Though they maximize floor space, they cannot be expanded in width. On the other hand, multi-span buildings have unlimited scope for expansion and are thus are often a popular choice for offices and residential buildings.

Pre-engineered steel homes have also become very popular in recent years. They offer affordability and flexibility, among many other benefits. There are two kinds of pre-engineered steel buildings: modular and manufactured homes. The only difference is that manufactured homes need not be built as per the building codes, unlike modular homes. For this reason, modular homes are often considered to be more sturdy and reliable.
Whether you're creating a manufactured home, modular home, or even a new office, pre-engineered steel buildings offer a vast array of affordable and durable options.
Steel Storage Buildings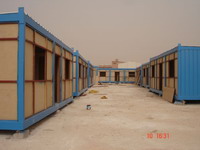 Steel is gaining in popularity as a building material due to the many options it offers, its strength, and its affordability. Steel storage buildings are one of the many options available; they range from airplane hangars to garden sheds. The most popular use for steel storage buildings is as self-storage units. Security, space, strength and low maintenance are some of the advantages.
Steel is the preferred choice for storage buildings as it is strong enough to resist extreme weather conditions like high-speed winds, heavy snowfall and earthquakes. Low structural maintenance costs also make it a viable alternative. Steel storage buildings can be coated with aluminum compounds to prevent rusting. Steel paneling coated with aluminum compounds prevents rusting, and increases the life of the panels to almost thirty years.
Steel storage buildings quick and easy to erect. They are available in the form of pre-engineered structures that are sent directly to the building site for instant assembling. Pre-engineering involves cutting, drilling and welding done at the manufacturing site itself, thus making erection quicker and cheaper.

Versatility is another advantage of steel storage units. They come with adjustable panels, so that the size of each individual unit can be changed as per individual requirements. Easy expansion also enables easier addition of new units to the existing building, and the lack of support columns means that there is more free space within the building.
The likelihood of a fire destroying a steel building or spreading to other units is very low as they are non-combustible. This makes steel storage buildings especially suitable for storing chemicals and other hazardous materials. Furthermore, use of security systems like alarms and coded keypads increase the security of these buildings.

Costs are not only usually lower for steel buildings, but the total costs are usually more easily and accurately predicted. Steel buildings that are used for storage purposes cost less than conventional buildings, as they can be pre-engineered to suit the exact requirements of the site.
Commercial Steel Buildings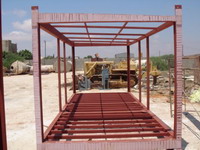 Commercial steel buildings are pre-fabricated and custom-designed for use as offices, stores, distribution centers, freight terminals, service stations, aircraft hangers, commercial garages and more. Since they can be molded into a range of shapes and sizes, steel buildings are finding applications in most any industry imaginable.

All commercial steel buildings are pre-engineered at the manufacturing site and shipped out along with their components to the construction site for assembling. They are particularly advantageous as they can be easily increased in length and number. Since steel does not require much space for support columns, there is more usable free space, making it more suitable use in large warehouses and airplane hangers. Most manufacturers have trained staff who deliver and lay out the components. This makes construction easier and more efficient.

In addition to their low structural maintenance, and durability, accurate price estimates make steel buildings more attractive in the commercial sector.

Commercial steel buildings come in three major categories. The first is steel framed, wherein just the structure or the frame is made of steel, and the external finishing is done with other conventional material such as stucco or brick. This is common in offices, houses and other smaller establishments.

The next category is steel pole buildings, wherein posts and trusses are replaced with steel and then the roof and walls are sheathed with metal. These buildings, also known as pole barns, are more often used in the agricultural sector.

Lastly, steel arch buildings, made of arched steel panes, are the easiest to erect and are most often used for industrial and agricultural purposes. They are completely made of steel and molded in the form of an arch, which serves as both the roof and the wall. They are mostly used in do-it-yourself construction.

A steel building from any of these categories can offer an affordable and durable option for construction.